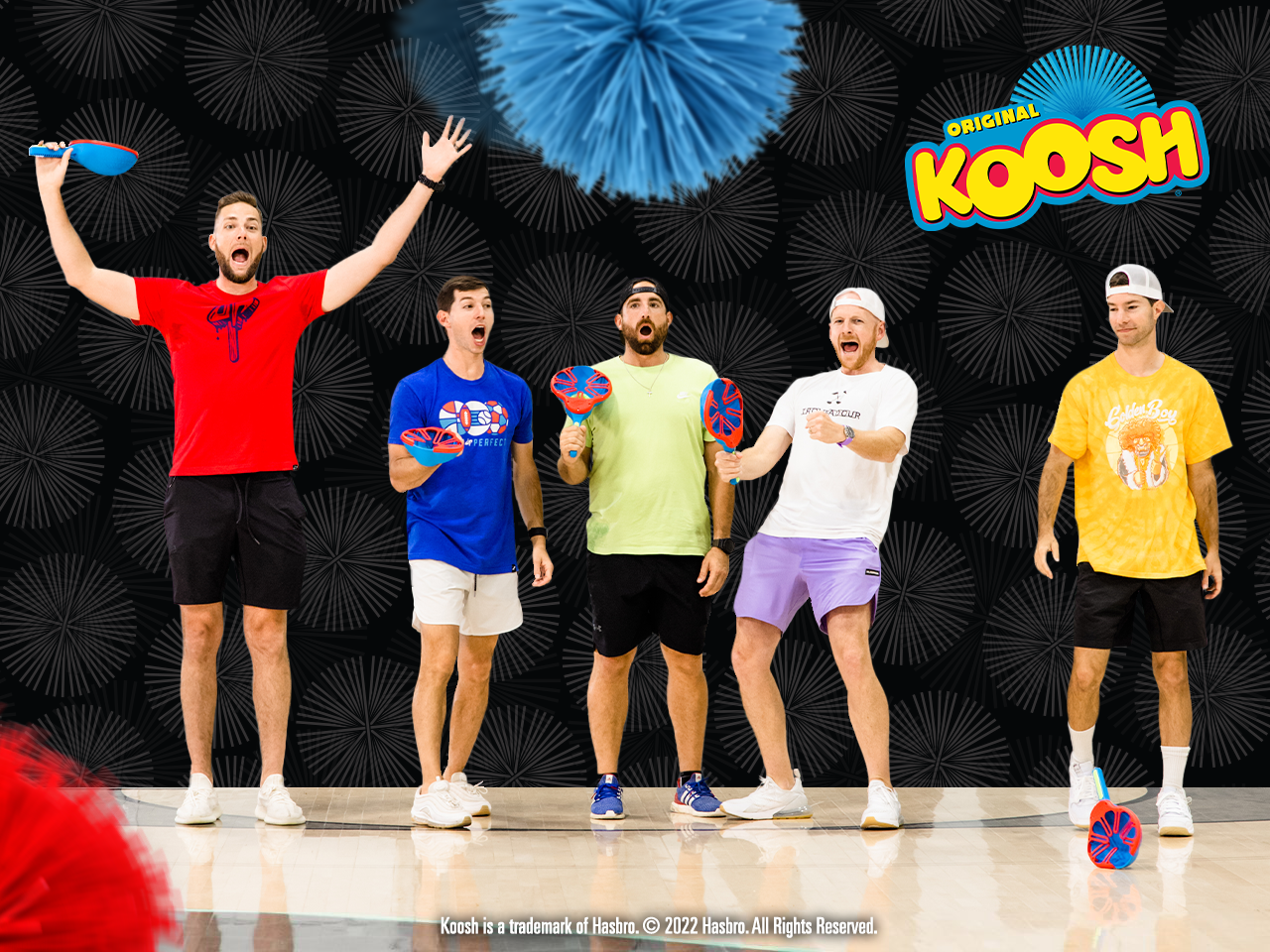 Koosh Flix Stix invites fans to test their skills head-to-head
BELOIT, Wis. (August 29, 2022) — "Easy to pick up, hard to put down" once again drives the incredible success and popularity of Koosh with the new launch of the highly-anticipated Koosh Flix Stix. Hot off the heels of an incredible year in 2021, Koosh has been flying off shelves, as well as around rooms and in backyards everywhere! The brand looks forward to bringing even more excitement to Koosh fans as they launch Koosh Flix Stix with everyone's favorite dudes, Dude Perfect.
It's all in the flick; it's all in the wrist! With its lacrosse-inspired scoop and pass-and-shoot play pattern, it won't just be sports fans who will enjoy Koosh Flix Stix play with endless hours of fun for family and friends to test their skills and go head-to-head.
Fans can't get enough Koosh, or the YouTube mega-star group Dude Perfect who has accumulated a mass following of over 50 million subscribers and engaged millions of their loyal fan base in last year's wildly successful #KooshChallenge. Fans can expect another action-packed year of trick shots and incredible stunts featuring Koosh Flix Stix.
"Koosh is once again lined up to be a must-have toy of the year. Our renewed partnership with Dude Perfect and the successful launch of Koosh Flix Stix continue to prove that adults and kids of all ages enjoy Koosh's immersive play and are ready to take it to the next level," said Lisa Wuennemann, VP Marketing at PlayMonster.
Get your Koosh Flix Stix at Target now; ages 6+, MSRP $29.99. Watch for Dude Perfect's AWESOME content across their channels. #KeepItKoosh
For more information, visit https://www.playmonster.com.
Koosh is a trademark of Hasbro. © 2022 Hasbro. All Rights Reserved.

About PlayMonster
PlayMonster, a leading international toy and game company, believes in the power of play to make a positive difference in people's lives and strives to keep play alive for all ages by delivering great play value through designing, manufacturing and marketing innovative and fun toys, games and activities. PlayMonster's diversified portfolio includes popular brands and products such as "TOTY Game of the Year" Yeti in My Spaghetti®, plus THINGS…®, 5 Second Rule®, Relative Insanity®, Farkle, Five Crowns®, Spirograph®, Colorforms, My Fairy Garden®, Fashion Plates®, Latchkits®, Snap Ships®, Koosh® and the recently acquired Ann Williams Group including Loopdedoo®, Craft-tastic®, Craft Crush™ and Sticker & Chill™.
About Hasbro
Hasbro (NASDAQ: HAS) is a global play and entertainment company committed to making the world a better place for all children, fans and families. Hasbro delivers immersive brand experiences for global audiences through consumer products, including toys and games; entertainment through eOne, its independent studio; and gaming, led by the team at Wizards of the Coast, an award-winning developer of tabletop and digital games best known for fantasy franchises MAGIC: THE GATHERING and DUNGEONS & DRAGONS. The company's unparalleled portfolio of approximately 1,500 brands includes MAGIC: THE GATHERING, NERF, MY LITTLE PONY, TRANSFORMERS, PLAY-DOH, MONOPOLY, BABY ALIVE, DUNGEONS & DRAGONS, POWER RANGERS, PEPPA PIG and PJ MASKS, as well as premier partner brands. For the past decade, Hasbro has been consistently recognized for its corporate citizenship, including being named one of the 100 Best Corporate Citizens by 3BL Media and one of the World's Most Ethical Companies by Ethisphere Institute. Important business and brand updates are routinely shared on our Investor Relations website, Newsroom and social channels (@Hasbro on Twitter, Instagram, Facebook and LinkedIn.)
© 2022 Hasbro, Inc. All Rights Reserved.
###
For More Information, Please Contact:
Lisa Wuennemann
PlayMonster Group LLC
(800) 524-4263
lisa.wuennemann@playmonster.comcreate new email
Allison Yakeley (on behalf of PlayMonster)
ayakeley@beaconmediagrp.comcreate new email