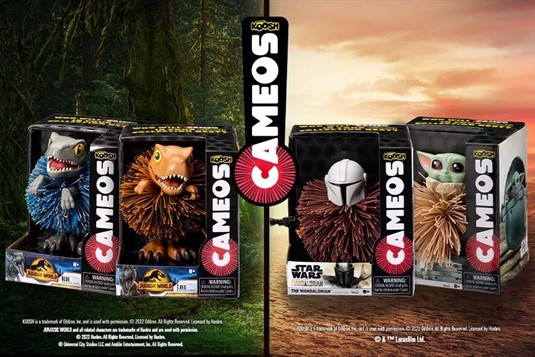 PLAYMONSTER REIMAGINES HASBRO's ICONIC CLASSIC BRAND KOOSH® BALL WITH MUST-HAVE LICENSES!
BELOIT, Wis. (October 6, 2022) — PlayMonster Group LLC is bringing fandom to the palm of your hands with the launch of new Koosh Cameos, the iconic brand from Hasbro, a global branded entertainment company! For a limited time, fans can pick up four all-new Koosh character collectibles (two from Jurassic World and two from Star Wars, The Mandalorian), inspired by the brand that brought the world the iconic Koosh Ball!
These collectible Koosh items combined with sculpts of classic fan-favorite characters gives fans of all ages an opportunity to showcase their fandom in a #KeepItKoosh way! Whether your goal is to play or display these products, consumers are in for a treat this fall!
"As a team of long-time Star Wars and Jurassic World fans, we're very excited to share these fan-favorite characters, in Koosh form!" says Sakita Withers, Global Brand Manager at PlayMonster. "These brand-new collectible products are the first in our new Koosh Cameos product line, and we can't wait to share them and expand on the line's character variety in future launches!"
Following the brand's successful launch of the Koosh Flix Stix with YouTube mega-stars Dude Perfect this past August, the team is ready for another big win. Koosh Cameos will be available soon at an Amazon, BAM or Kohl's retailer near you, make sure you keep an eye out for these highly-anticipated, fan-favorite Koosh items:
Jurassic World Cameos | Ages 8+ | $12.99
The classic Koosh ball is reimagined as stylized Jurassic World characters! Keeping the same satisfying Koosh texture and movement, celebrated Jurassic World characters will come to life in Koosh form for a limited-edition collectors series.
The Mandalorian Cameos | Ages 8+ | $12.99
Celebrated Star Wars characters will come to life in the form of Koosh collectible figures! Featuring the adorable Grogu and The Mandalorian from Emmy-winning Star Wars The Mandalorian franchise for a limited-edition collectors series.
To learn more about Koosh Cameos, and everything PlayMonster, please visit Playmonster.com.
About PlayMonster
PlayMonster, a leading international toy and game company, believes in the power of play to make a positive difference in people's lives and strives to keep play alive for all ages by delivering great play value through designing, manufacturing, and marketing innovative and fun toys, games and activities. PlayMonster's diversified portfolio includes popular brands and products such as "TOTY Game of the Year" Yeti in My Spaghetti®, plus THINGS…®, 5 Second Rule®, Relative Insanity®, Farkle, Five Crowns®, Spirograph®, Colorforms, My Fairy Garden®, Fashion Plates®, Latchkits®, Snap Ships®, Koosh®, and the recently acquired Ann Williams Group including Loopdedoo®, Craft-Tastic®, Craft Crush™ and Sticker & Chill™.
About Lucasfilm Ltd.
Founded by George Lucas in 1971, Lucasfilm is a privately held, fully-integrated entertainment company. In addition to its motion-picture and television production operations, the company's global activities include Industrial Light & Magic and Skywalker Sound, serving the digital needs of the entertainment industry for visual-effects and audio post-production; LucasArts, a leading developer and publisher of interactive entertainment software worldwide; Lucas Licensing, which manages the global merchandising activities for Lucasfilm's entertainment properties; Lucasfilm Animation; and Lucas Online creates Internet-based content for Lucasfilm's entertainment properties and businesses. Additionally, Lucasfilm Singapore, produces digital animated content for film and television, as well as visual effects for feature films and multi-platform games. Lucasfilm Ltd. is headquartered in San Francisco, California.
About Jurassic World
From Universal Pictures and Amblin Entertainment, Jurassic World immerses audiences of all ages in a new era of wonder and thrills where dinosaurs and humankind must learn to coexist. Jurassic World is more than a film franchise. At every turn, this $5 billion film series delivers a larger-than-life destination for exploration, discovery, and epic adventure. Dinosaurs live again and they live in Jurassic World.
About Hasbro
Hasbro (NASDAQ: HAS) is a global play and entertainment company committed to making the world a better place for all children, fans and families. Hasbro delivers immersive brand experiences for global audiences through consumer products, including toys and games; entertainment through eOne, its independent studio; and gaming, led by the team at Wizards of the Coast, an award-winning developer of tabletop and digital games best known for fantasy franchises MAGIC: THE GATHERING and DUNGEONS & DRAGONS.
The company's unparalleled portfolio of approximately 1,500 brands includes MAGIC: THE GATHERING, NERF, MY LITTLE PONY, TRANSFORMERS, PLAY-DOH, MONOPOLY, BABY ALIVE, DUNGEONS & DRAGONS, POWER RANGERS, PEPPA PIG and PJ MASKS, as well as premier partner brands. For the past decade, Hasbro has been consistently recognized for its corporate citizenship, including being named one of the 100 Best Corporate Citizens by 3BL Media and one of the World's Most Ethical Companies by Ethisphere Institute. Important business and brand updates are routinely shared on our Investor Relations website, Newsroom and social channels (@Hasbro on Twitter, Instagram, Facebook and LinkedIn.)
© 2022 Hasbro, Inc. All Rights Reserved.
###
For More Information, Please Contact:
Lisa Wuennemann
PlayMonster Group LLC
(800) 524-4263 x275
lisa.wuennemann@playmonster.comcreate new email
Kassandra O'Brien
Beacon Communications (on behalf of PlayMonster)
289.264.6499
kobrien@beaconmediagrp.comcreate new email