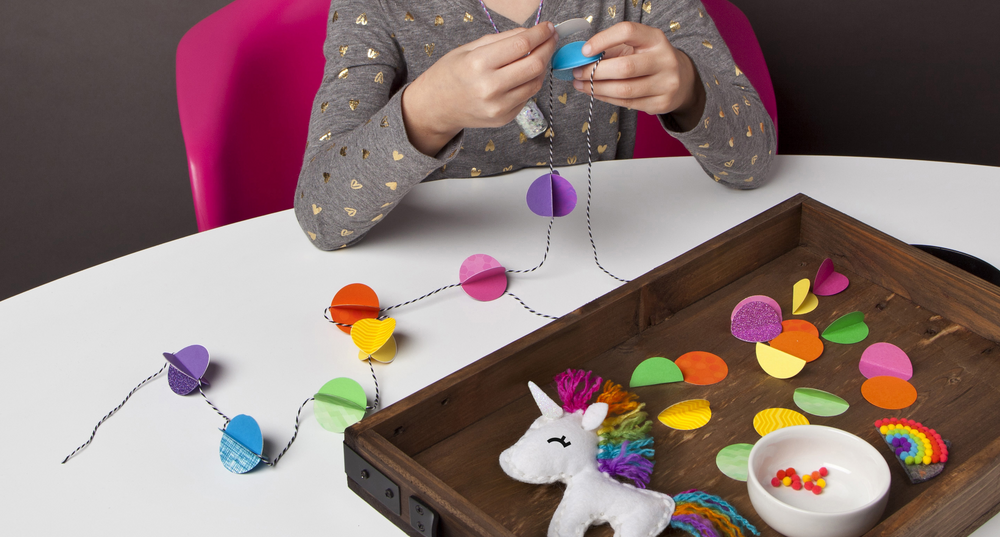 With how busy our lives can get, we forget to take a step back and break up our routines. Sometimes it helps to do something special for yourself (and some friends) in order to de-stress and have fun. Nothing works as a pick-me-up or as a breath of fresh air in a weekly routine quite like some quality ME time. Or Us time. So why not throw a Craft Party?
Craft Parties are all about gathering your favorite people and making crafts (and memories) together! They're the perfect way to stay connected and have quality time with the people in your life. You're sure to have a ton of fun, whether you're doing something you know and love or trying something new! Below are some ideas for hosting a spectacular Craft Party! Let's get started!
Step 1: What's the Occasion?
The first thing you need to do is figure out what you're partying for. Is it a birthday? A sleepover? A night out with friends? Crafts are perfect for adding a unique spin to any and all celebrations!
Step 2: Who's Invited?
Now you need to know how many guests are coming to your party so you know how many crafts to supply and can start thinking what crafts are best for the partygoers you're expecting.
Are you looking for everyone to have their own kit, or should people share and make something together? Do you want to try something new or make a favorite of yours? How old are the partygoers and what sort of craft would they enjoy?
Step 3: Pick Your Craft!
We know, this is the hardest part of all. The centerpiece of any good Craft Party is, of course, the craft! Ann Williams has you covered with crafts for all ages and interests, so it's going to be great no matter which kit you pick.
Here are some of our top kits for throwing an amazing Craft Party!
Make your own toy! Sew a Koala stuffie complete with ready-to-wear clothes and easy-to-make accessories. Get the same kit (or others in our Make A Friend line) for all of your guests to make, then they can keep the party going by playing with their new friends! Who doesn't love a craft you can use after you make it?
Why This Kit is Party Perfect:
Great individual craft

Combines crafting with dolls

Makes a toy you can keep using

For young crafters (ages 4+)
Make your party magical! Mix up some potions using special ingredients and enchanting fairy-made recipes! Create a potion of good luck, color-changing flowers, and more. Let children combine the fun of crafting something new with the magic of imagination!
Why This Kit is Party Perfect:
Great for sharing (9 potions per kit)

A magical experience

For young crafters (ages 6+)
Make a rainbow of crafting fun with six unique unicorn-themed projects. Make stuff you can wear (a unicorn headband), stuff you can play with (a unicorn stuffie), stuff you can display (a unicorn garland)—all kinds of fun things everyone will be wild about! The variety of projects lets kids pick and choose what they want to make!
Why This Kit is Party Perfect:
Great for sharing (6 projects per kit)

Makes different crafts (6 unique projects)

For young crafters (ages 7+)
Let chance decide your design! Roll the dice and spin the spinner to figure out which beads to use and how many until you have enough for a bracelet, then craft it. Turn bracelet-making into an exciting game that gets everyone involved. Add some of your own materials to make as many bracelets as you want!
Why This Kit is Party Perfect:
Bracelet-making game

Easily incorporate your own beads and materials

Great for sharing (enough for 20 bracelets—expandable with your own materials)

For tween crafters (ages 8+)
It's all the little things combined that make you extraordinary! Have each guest celebrate themselves with a stunning work of art as unique and special as they are. Create the flower design with iridescent foil, gold foil, and colorful strips, then personalize it with over 250 words that describe YOU.
Why This Kit is Party Perfect:
Great individual craft (All about YOU)

Unique to each person

Get-to-know-you activity

For tween crafters (ages 8+)
Add some charm to your plants! Use the metal frames to make beautiful faux stained-glass creations, then attach them to the stakes and decorate your indoor plants. This kit makes 4 plant charms, so they're perfect for brightening up your home or for gifting the plant-lovers in your life!
Why This Kit is Party Perfect:
Great for sharing (4 charms per kit)

Super giftable

For teen and adult crafters (13+)
Simple, stylish—and fun! From beads to braiding, this curated collection of bracelets to make has it all! Make 8 unique and beautiful bracelets to express your style. Now in a super trendy lilac color!
Why This Kit is Party Perfect:
Great for sharing (8 bracelets per kit)

Super giftable

For teen and adult crafters (13+)
Make adorable sand art planters, complete with fake plants to put in your multicolored sand! Use the provided sand and glitter to fill each container, then add the plant leaves to finish off each look.
Why This Kit is Party Perfect:
Great for sharing (5 mini planters per kit)

For teen and adult crafters (13+)
If none of these are what you're looking for, don't worry! We've got TONS of other crafts to choose from! Check https://www.playmonster.com/brands/ann-williams/ for all we have to offer!
Step 4: Set it Up!
Today's the day! It's time to set up the greatest Craft Party ever. Make sure you have plenty of space for everyone to work comfortably. Set up at a hard work surface and consider putting down some newspaper to protect your surfaces and to make clean up a breeze! Be sure to get out anything else you may want (like scissors or your own hot glue)—everything else you'll need to make your crafts is included in the kit, including easy-to-follow instructions and adhesive.
If you're a parent preparing for children, you may want to review the instructions ahead of time to make sure you know what you'll need to do and are ready to answer questions or help out as needed.
After your craft station is prepped, you'll want to set up for your guests. Any good party—craft or otherwise—has got to have snacks and some music. Grab your favorites and switch on your favorite tunes!
Step 5: Get the Party Started!
You did it! You're hosting your own Craft Party! Enjoy this time with your family and friends while you make something new!
Be sure to take plenty of pictures! We love to see what amazing things people make with our kits. Share your photos, or just tell us and other crafters what you thought on social media using #annwilliamscrafts or tagging @shopannwilliams and @playmonsterfun
Happy Crafting!