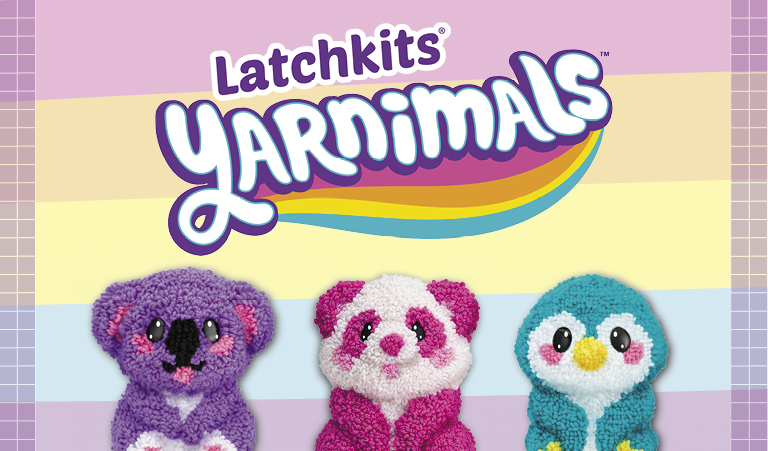 All-New Craft Activity Lets Kids Create their Own Cuddly Plush Pal!

BELOIT, Wis. (April 26, 2022) — Latchkits®, PlayMonster's popular DIY crafting brand, releases Latchkits® Yarnimals™ craft kits which teaches kids how to make their own adorable 3D plush. Kids can proudly create their own Latchkits Koala, Panda, or Penguin, and discover hours of cuddly fun when they're done creating.
From the brand that brought families Latchkits rugs, kids looking to make their own plush BFF can do so with new Yarnimals all-in-one DIY kits. Families can discover the satisfying motions of a new craft activity as they hook, loop, and pull to create a plush Koala, Panda, or Penguin. The Yarnimals 3D mesh form has easy-to-follow raised areas that show where to place each yarn color to make the perfect plush. It's easy to learn, with no sewing or measuring required. Plus, there's a special mesh heart to loop and place inside your Yarnimal to fill it with love! Collect and create all three!
"As children are introduced to the world of arts and crafts, it's important to keep activities and learning opportunities rewarding," says Wendy Hartling, Director of Activity Toys at PlayMonster. "One of our goals with Latchkits Yarnimals was to create a simple yet engaging product that was accessible for young children to try, and feel accomplished after seeing their very own plush come together."
New Latchkits Yarnimals retails for $19.99, for kids ages 8 and up. Each set comes with its own animal form, premium yarn, looping tool, snap-in eyes, instruction guide, and a bonus heart charm for families and kids to create their own plush pal.
For more information, visit PlayMonster.com.
About PlayMonster
PlayMonster, a leading international toy and game company, believes in the power of play to make a positive difference in people's lives and strives to keep play alive for all ages by delivering great play value through designing, manufacturing and marketing innovative and fun toys, games and activities. PlayMonster's diversified portfolio includes popular brands and products such as "TOTY Game of the Year" Yeti in My Spaghetti®, plus THINGS…®, 5 Second Rule®, Relative Insanity®, Farkle, Five Crowns®, Spirograph®, Colorforms, My Fairy Garden®, Fashion Plates®, Latchkits®, Snap Ships®, Koosh®, and the recently acquired Ann Williams Group including Loopdedoo®, Craft-Tastic®, Craft Crush™ and Sticker & Chill™.
###
For More Information, Please Contact:
Lisa Wuennemann
PlayMonster Group LLC
(800) 524-4263
lisa.wuennemann@playmonster.com create new email

Sierra Percy-Beauregard
Beacon Communications (on behalf of PlayMonster)
spercy-beauregard@beaconmediagrp.comcreate new email
416.659.5807