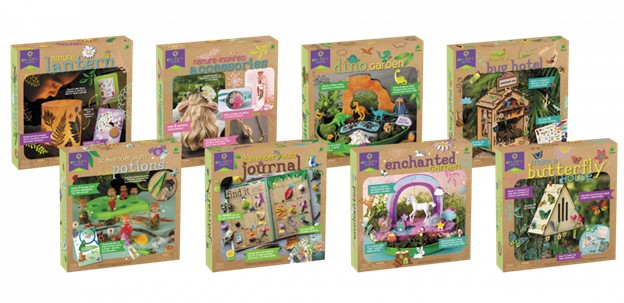 Nature and Crafting Unite with these Imaginative New Crafting Projects
BELOIT, Wis. (June 22, 2022) — PlayMonster embraces outdoor exploration and crafting in 2022 with the new Craft-tastic® Nature line. Families can embark on immersive craft experiences using simple crafting prompts and natural ingredients along with the supplied materials to reveal magical projects that can be displayed at home. The collection includes eight unique crafting projects, for families and kids ages 4 and up. This line launches exclusively at Michaels stores across the US and on Michaels.com. These include:
Craft-tastic – Scavenger Hunt Potions | $19.99 each | Ages 4+ (with help)
Search outside and gather the ingredients listed on each page of the Scavenger Potions Book to make 7 unique potions with magical abilities! Go on a scavenger hunt for ingredients, discover magic outside, then display your finished creations on the magical leaf stand!
Craft-tastic – Nature Lantern | $19.99 each | Ages 8+
Kids can enjoy the Nature Lantern activity all year round! Bring nature indoors, using your own pressed leaves and flowers along with the fun decor included in the kit to make a beautiful piece for your space. Add a tea-light to illuminate the pretty colors and silhouettes for a magical nature glow!
Craft-tastic – Scavenger Hunt Journal | $19.99 each | Ages 6+
This journal is packed with hours of screen-free fun! Each page has a fun outdoor activity or scavenger hunt for you to sticker, color or do — be creative! Adopt a tree, earn badges, play games, learn new things and more! Search for things outside then personalize each page with the little treasures you find, right in your backyard!
Craft-tastic – Nature Inspired Accessories| $19.99 each | Ages 6+
Make pretty creations from nature and add natural elements to your style with found objects right from your backyard! Wear or share! A perfect gift for nature-lovers, this kit includes everything you need to create your own jewelry.
Craft-tastic – Enchanted Garden| $19.99 each | Ages 4+ (with help)
Create your own magical world filled with enchanting details! This plant and play Enchanted Garden is filled with everything you need for a nature-inspired magical experience. Just add water and watch your magical plants grow, plus add a sand playground for your enchanted animal friends to play in! The fun doesn't stop there! Take it outside for more adventure or keep it indoors for continuous play.
Craft-tastic – Dino Garden| $19.99 each | Ages 4+ (with help)
Play with your dinos in the tall grass you grow yourself! Dig out fossils from the prehistoric sand pit. The fun doesn't stop there! Take it outside for more adventure or keep it indoors for continuous play. This kit inspires creativity and imaginative play while learning a new skill.
Craft-tastic – Make a Butterfly House | $19.99 each | Ages 4+ (with help)
All the butterflies will be talking about this fun and functional Butterfly House! Simply attach the wooden panels together to create this cute shelter for your new friends. Place found leaves, sticks and flowers around the house to attract pretty butterflies. Decorate with leaves and flowers you find using the plastic needle and jute. Stick the printed acetate butterflies to the house or thread them onto your house.
Craft-tastic – Make a Bug Hotel | $19.99 each | Ages 4+ (with help)
Discover a fun and educational way to learn about bugs! This super cute Bug Hotel gives bugs and insects a place to rest and nest! Easily snap the wooden panels together and personalize it with fun water-proof hotel themed stickers. Fill it with leaves, stickers, flowers, and other found objects from nature. Attract a wide variety of little friends then learn about them in your identification guide booklet. Insects are an incredibly important part of our ecosystem — why not invite them in to stay?
For more information, please visit www.playmonster.com.
About PlayMonster
PlayMonster, a leading international toy and game company, believes in the power of play to make a positive difference in people's lives and strives to keep play alive for all ages by delivering great play value through designing, manufacturing and marketing innovative and fun toys, games and activities. PlayMonster's diversified portfolio includes popular brands and products such as "TOTY Game of the Year" Yeti in My Spaghetti®, plus THINGS…®, 5 Second Rule®, Relative Insanity®, Farkle, Five Crowns®, Spirograph®, Colorforms, My Fairy Garden®, Fashion Plates®, Latchkits®, Snap Ships®, Koosh® and the recently acquired Ann Williams Group including Loopdedoo®, Craft-tastic®, Craft Crush™ and Sticker & Chill™.
###
For More Information, Please Contact:
Lisa Wuennemann
PlayMonster LLC
(800) 524-4263 x275
lisa.wuennemann@playmonster.comcreate new email
Allison Yakeley
Beacon Communications (on behalf of PlayMonster)
ayakeley@beaconmediagrp.comcreate new email