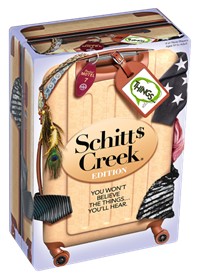 BELOIT, Wis. (July 2, 2021) — Fans won't be able to contain their excitement ("Stop doing that with your face") as the record-setting Emmy award-winning TV Show, Schitt's Creek, distributed and licensed by ITV Studios, partners with PlayMonster's Game of THINGS…, the hilarious, best-selling party game. The combination of the game's humor and the show's wit and fundamental warmth will allow fans to connect with the beloved characters.
THINGS… has sold over 4 million copies since first introduced to the market. The hilarious, easy-to-play, party game presents players with provocative topics such as "THINGS… you wouldn't do for a million dollars." Players each write funny responses and then take turns guessing who said what. In this Special Edition, all the topics revolve around both the town of Schitt's Creek and its' loveable cast of compelling characters. It includes topics like: "THINGS… that are A Little Bit Alexis", THINGS… the Schitts and the Roses have in common." and "THINGS… that probably shouldn't be on your town's 'Welcome' sign". There are no right or wrong answers. Just a lot of laughs. It's almost like you're a writer on the show.
"The hilarity and sarcasm of the Schitt's Creek characters invites fans to relate on many different levels," said Scott Flynn, VP Sales & Marketing at PlayMonster. "Paired with the game of THINGS…, this special edition gives fans a fun, unique way to engage and play, all while referencing their favorite show!
THINGS… Schitt's Creek Edition includes 200 topic cards, a response pad and sticker sheet, and is for 4 or more players, between ages 14 – Adult. It will be available for purchase for $19.99 exclusively at Target on August 15, 2021, and will be available everywhere else on October 1, 2021.
About PlayMonster
PlayMonster, a leading international toy and game company, believes in the power of play to make a positive difference in people's lives, and strives to keep play alive for all ages by delivering great play value through designing, manufacturing and marketing innovative and fun toys, games and activities. PlayMonster's diversified portfolio includes popular brands and products such as Koosh™, "TOTY Game of the Year" Yeti in My Spaghetti®, plus THINGS…®, 5 Second Rule®, Relative Insanity®, Farkle, SET®, Five Crowns®, Spirograph®, Colorforms, My Fairy Garden®, Face Paintoos™, Fashion Plates®, Latchkits®, and Snap Ships®.
About ITV Studios
ITV Studios is a creator, producer and distributor of world-leading programs that people can't get enough of. We connect millions of people every day and shape and reflect the world they live in. We are More Than TV. The ITV Studios Brand & Licensing division is responsible for all global commercial activities including sponsorship, brand licensing, consumer products, gaming and live events. It represents a diverse portfolio including formats, scripted, game shows and kids, which offer a wide range of commercial opportunities. Key brands include The Voice, Hell's Kitchen, Love Island, I'm A Celebrity… Get Me Out of Here, The Chase, Schitt's Creek, Come Dine With Me and The Bodyguard.
About QUINN & SHERRY, INC.
Quinn & Sherry, Inc., (Q&S) is an award winning, game design company that will go to extraordinary lengths to make people laugh. Q&S are the Creators of the THINGS… brand of party games including the "Original", "Anniversary Edition", "Expansion Pack #1", "Nasty THINGS…" and recently the mobile APP.
###
For More Information, Please Contact:
Corporate: PR Contacts
PlayMonster LLC PlayWise Partners
Lisa Wiennemann Rachel Griffin + Sheena Stephens
(800) 524-4263 310-871-3919
lisa.wuennemann@playmonster.com create new email PlayMonster@playwisepartners.comcreate new email